Rihanna's "Work" hit platinum status just 2 months after it's release; and quite frankly, summer 16 just wouldn't be summer without RiRi's futuristic Caribbean song. But wait, there's more! Then RiRi mesmerized us all with not one, but two "Work" music videos! So, as you can imagine, there are tons of Rihanna inspired Halloween costumes this year.
I attended a Halloween costume party last night at the W San Francisco. I attempted to recreate Rihanna's "Work" video look and apparently the internet likes it! It went viral within a few hours and I've been getting tons of questions about my Rihanna Halloween costume. So here's the scoop on how to nail your Rihanna Halloween Costume this year.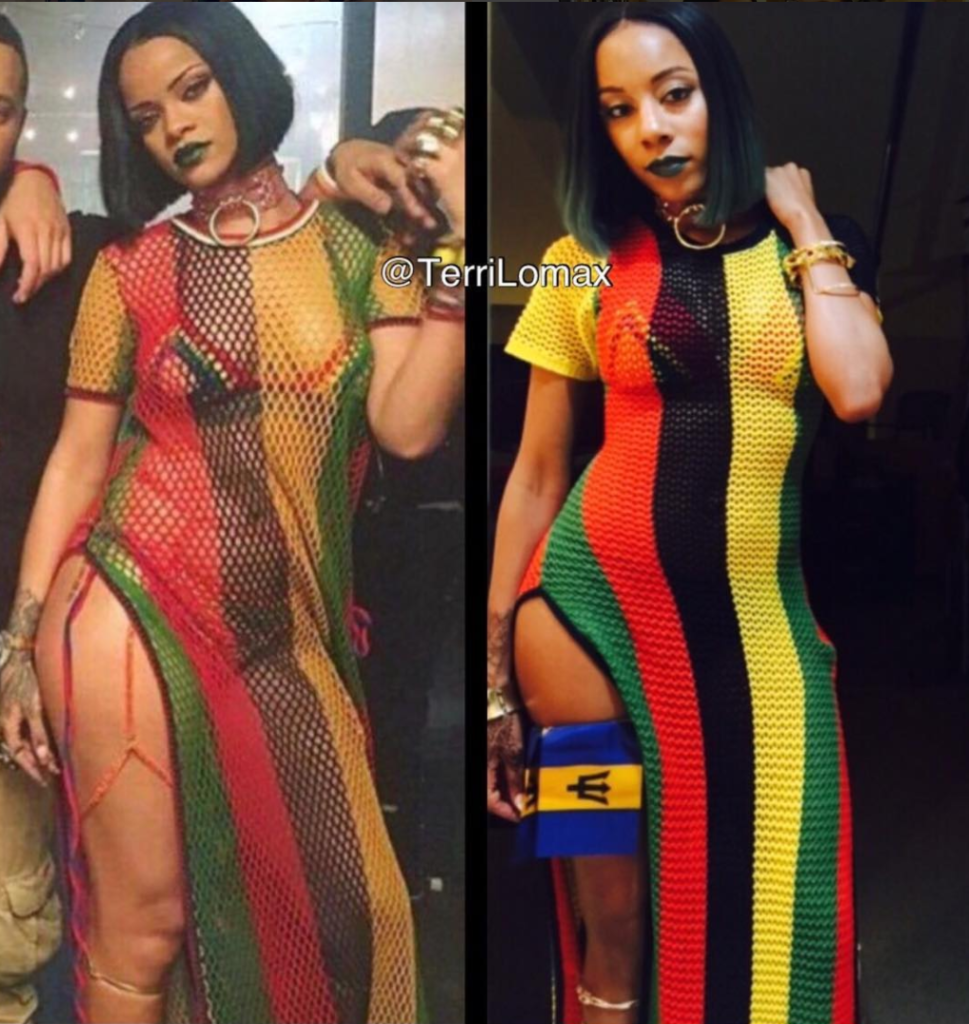 Nail Your Rihanna Halloween Costume This Year
The Dress
The most important part of this costume has to be the dress! The dress sets the tone and foundation for the make-up and accessories. In the "Work" video, Rihanna is wearing Tommy Hilfiger's spring 2016 collection net maxi dress. Unfortunately, "the dress Rihanna is wearing is a special edition runway piece," according to a Tommy Hilfiger rep.
But the good news is, you can get a reasonably priced bootleg version like me lol. I ordered my dress from PrettyLittleThing.com for only $32.49! Including shipping. PrettyLittleThing has quite a few sales so hopefully you can catch one! I used a discount code for my purchase, but I noticed that it has since expired.
By the way, I'm 5'5, 118 lbs (I know, I'm tiny 😜) and I ordered a size 4. A size 4 was a little loose for me so I pinned up the back with a safety pin. I did attempt to order a size 2 but they mailed me a size 4 by mistake. The great thing is, with $14.99 flat rate shipping, I got my order in less than 7 days!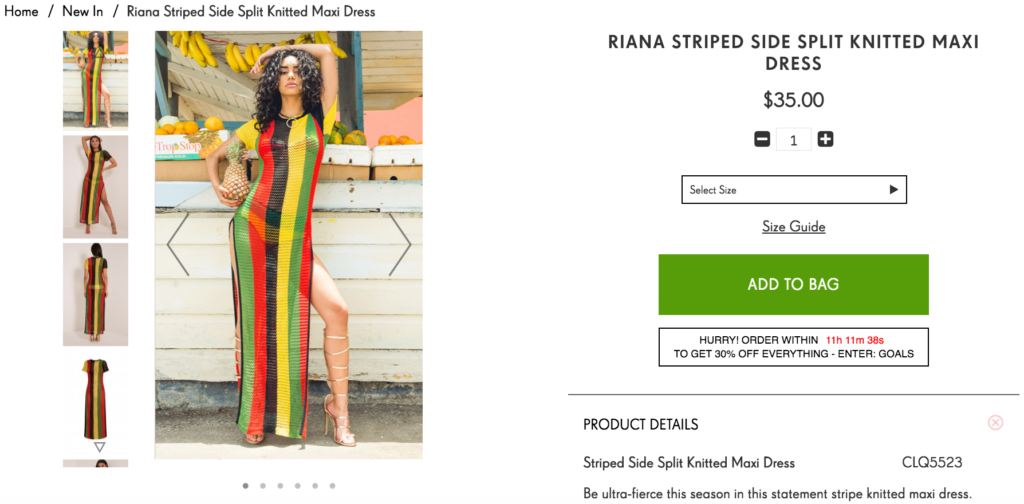 The Bikini Top
Rihanna's bikini top is also a piece from Tommy Hilfiger's spring 2016 collection. I couldn't find anything similar online so I decided to pull out my sewing kit to achieve my desired look. I already had a red bikini top which made this project super easy! I went to Walmart and bought scraps of yellow and green fabric. I cut the scraps into triangles and sewed it to my red bikini top… and waalah!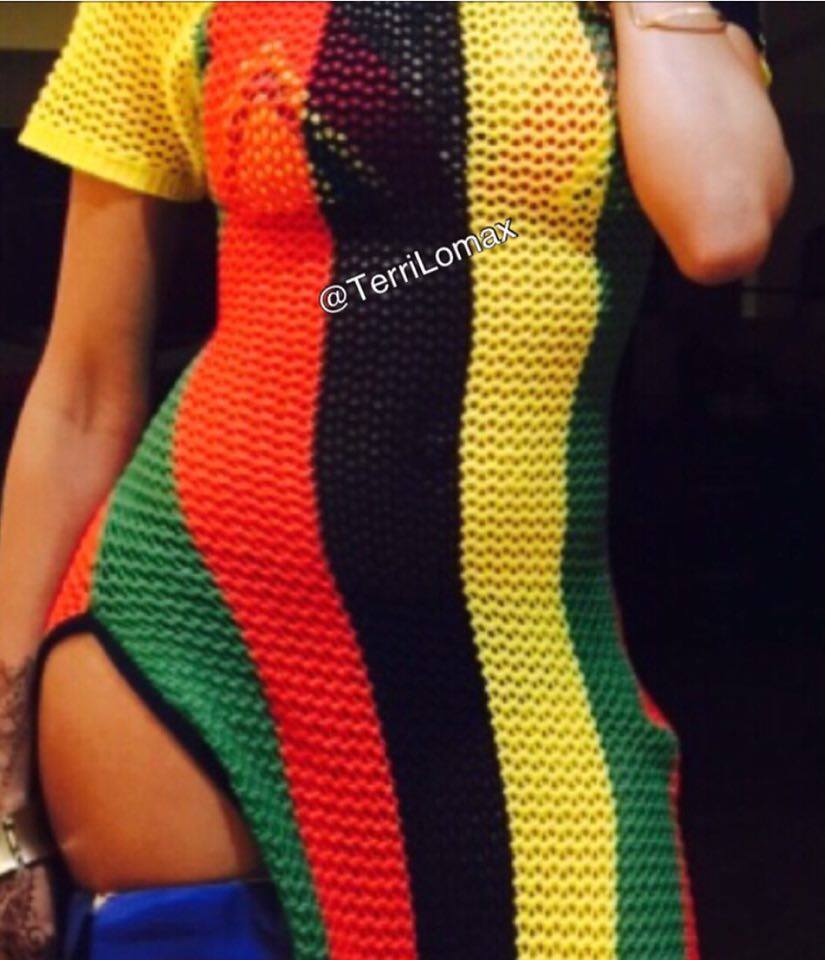 The Shoes
Rihanna slays with a pair of knee-high, metallic-gold Giuseppe Zanotti sandals that are way outside of my price range. I decided to order my look-a-likes at PrettyLittleThing.com. I spent more than I would have liked to, but I plan to rock these sandals until the heels fall off! I got my shoes for $70 plus shipping.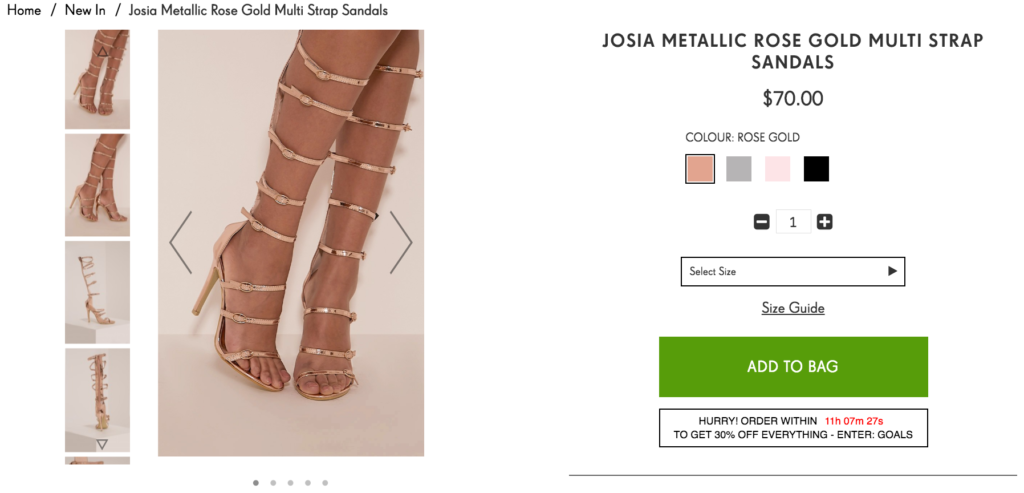 The Choker
Another staple that'll help you nail your Rihanna Halloween costume is the dope choker she's rockin'! The cool thing about Rihanna's choker is that it's handmade in New York City by a small team of 2!
"Chinese-American Yeha Leung, better known as Creepyyeha custom-creates each of her garter belts, bras, harnesses, and chokers for a fast growing audience using a signature style that's brutish and architectural, yet also incredibly delicate." – Dazed Digital 
Now before you check out the choker, you need to know that it's pricier than you may expect and Creepyyeha has an estimated 2-7 weeks before you receive your order. From NYC to San Francisco, it took 17 days for me to receive my order. I did order a cheaper alternative just in case I didn't receive my order in time. Check out the cheaper version here.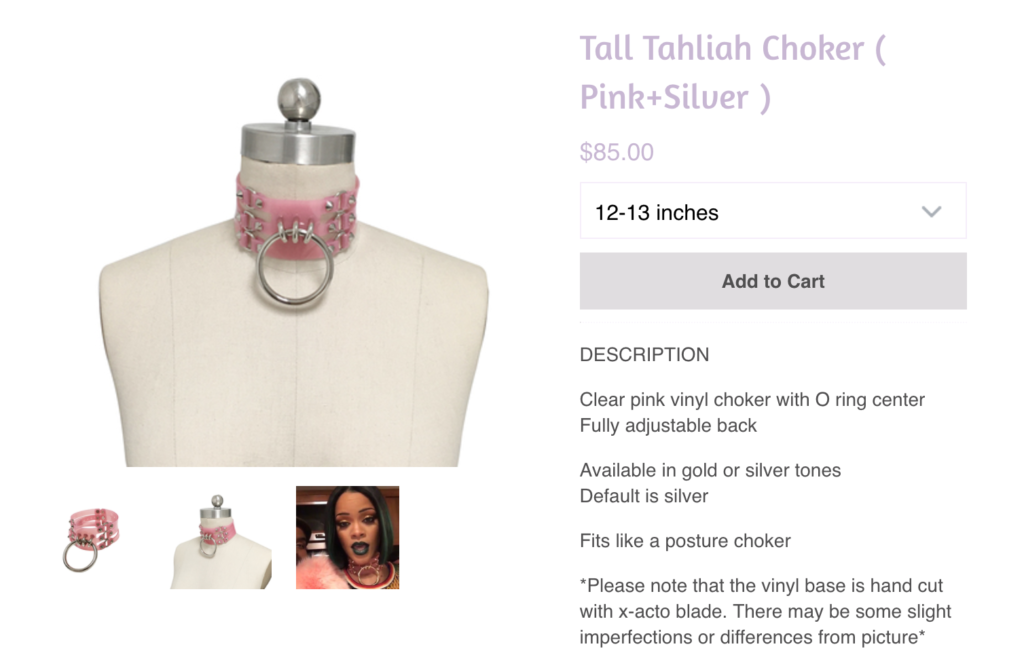 The Tattoo
Rihanna's tribal tattoo is simply beautiful! I decided to search for a local henna artist to complete my look! Darcy Vasudev from Henna Lounge did an amazing job on my henna tattoo. If you're in the Bay Area, hit her up.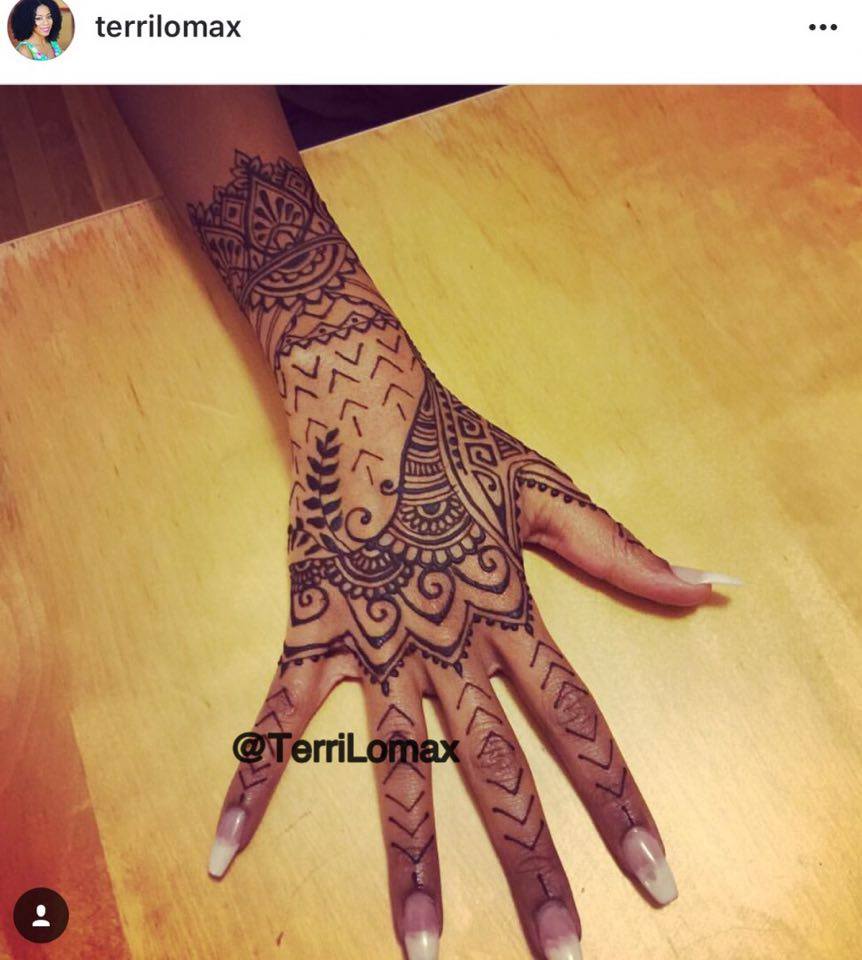 Other Accessories
Rihanna is adorned with other accessories and exquisite pieces that are nearly impossible to find but feel free to click the links below for the cheaper alternatives that I chose.
1. Barbados Small 4 X 6 Inch Mini Country Stick Flag Banner with 10 Inch Plastic Pole .. Great Quality Polyester … New
2. Magnificent Crown Synthetic Emerald Green Crystal Blue Rhinestone Peacock Tail Crown Ring
3. Gold Jeweled Adjustable Finger Ring and Slave Hand Chain Bracelet One Size Fits All
4. Alilang Adjustable Golden Tone Topaz Colored Rhinestone Vintage Mystic Dragon Tail Ring
5. Carfeny High Polished Stainless Steel Smooth Wide Cuff Bangle for Women Girls Lady (Gold)
Good luck with your Rihanna costume! Check out more pics of my husband and I as Drake and Rihanna on my Instagram here.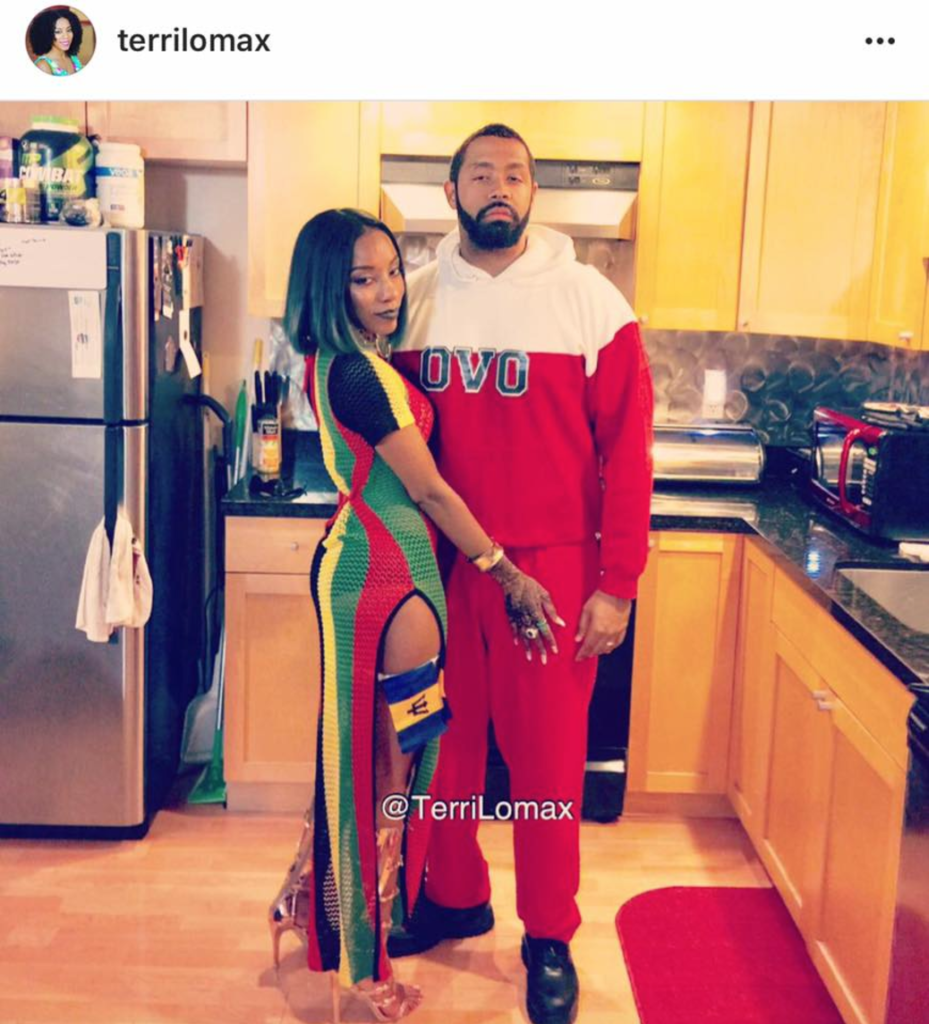 Share your feedback in the comments section: What questions do you have about this look? How could I have done a better job? Who should I be for Halloween next year?