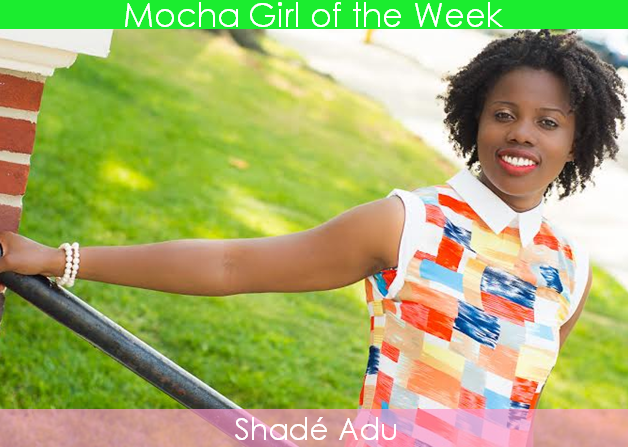 Shadé Yaa-Birago Adu is a Mocha Girl on a Mission…
because she is an international educator, world traveler, and motivational speaker destined to inspire others, and live life on purpose. Shadé is the founder and Chief Savvy Officer at Savvy Solutions Consulting, LLC and shadeyadu.com. Shadé is a Mocha Girl on a Mission because her enthusiasm for life is the relentless driving force that meets all challenges and obstacles head on and with a friendly smile.
Obstacles…
My mother's side of the family were sharecroppers in Wood, North Carolina and my father is an immigrant from Ghana West, Africa and growing up in Irvington, NJ with my six siblings, my family didn't make a lot of money. What we lacked in finances was compensated with love and encouragement to excel in school. A combination of intrinsic and extrinsic motivation allowed me to triumph in school. I always knew that I wanted to go to college but I knew that my family couldn't afford it. I saw the sacrifices that my parents had to make. My mother wore the same shoes everyday and my father worked multiple jobs just to put me through private school. I made a vow to my parents that they wouldn't have to pay for my education. During my senior year of college I applied to over 30 scholarships and I was blessed to be 1 of 1000 high school seniors chosen across the nation to be a prestigious Bill and Melinda Gates Scholar with up to ten years of academic funding. I later attended and graduated from Morgan State University with a Bachelor of Art in History.
During graduate school I was afforded the opportunity to be an inaugural member of international teachers as the Nazarbayev Intellectual School in Astana, Kazakhstan. When I first heard about this opportunity I laughed if off and didn't take it seriously. I said to myself "Where? Who? Why? Black people don't do that." I was extremely terrified. The thought of leaving my family and all that I knew didn't sit well with me. After careful consideration and prayer, I took a leap of faith and a plane to the Republic of Kazakhstan on August 7, 2011 and never looked back. During my tenure in KZ, I was instrumental in curriculum development, teacher training, and minority recruitment. I faced my fears, turned stereotypes of black women upside down, and traveled around the world.
Accomplishments…
My greatest accomplishment was keeping that vow to my parents and alleviating them of the burden of paying my college tuition. Being a Bill and Melinda Gate Scholar and Ambassador has truly transformed my live and the life of my family. Dreams do come true and higher education is tangible. The Gates Scholarship has opened doors for me and is allowing me to further my education and begin doctoral study at the University of Wisconsin-Madison. I will be pursuing a Ph.D in Curriculum and Instruction with a concentration in Multicultural Education this Fall.
Overcoming my fear and moving to Kazakhstan was one of my greatest accomplishments. I was the first and the youngest African American woman hired by my company. I met some wonderful people and had the opportunity of a lifetime to travel to over two dozen countries. Although, it was difficult being away from my family for three years, I knew that God had a purpose for me and wanted me to not only impact the lives of children in America but all around the world. I am writing a book about my experiences in Kazakhstan that should be out in 2015.
Most of my greatest accomplishments would not have been possible if it wasn't for my team of mentors, and extended family who I also happen to call my sorority sisters, the regal and sophisticated women of Sigma Gamma Rho Sorority, Incorporated. Being inducted into this magnificent sisterhood in the Fall of 2008 truly has changed my life. Members of this illustrious organization encouraged me to apply for multiple scholarships in high school and  to move to Kazakhstan. My Sorority Sisters have supported all of my endeavors and always motivate me to strive for the best because excellence is possible.
Keep in touch with Shadé on social media!
Were you inspired by Ms. Adu's inspiring story? Share your feedback below!